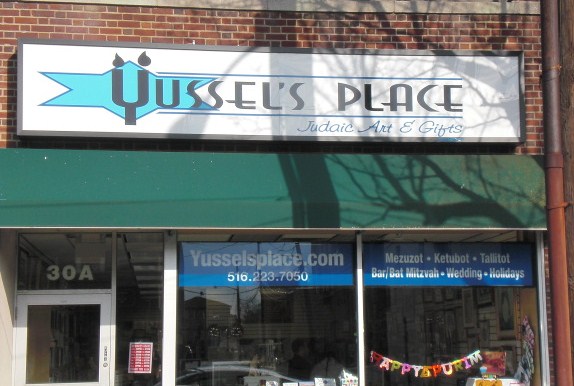 Yussel's Place/yusselsplace.com is your source for Judaica gifts, Jewish wedding gifts, bar mitzvah gifts, Jewish holiday gifts, as well as art from the top Judaica designers in the world. With over 50 years of combined merchandising experience, you will find the most comprehensive selection of mezuzot, books, ketubot, tallitot, framed art and other fine Judaica. If you are looking for excellent service and selection, Yussel's Place is the place. Our brick and mortar store is located at 30A Merrick Avenue, Merrick, New York.

We Ship Green...All Boxes and Packing Materials Are Recycled.


Our brick & mortar store is located at 30A Merrick Avenue in Merrick, NY, where we've been located for the last 30 years.
Our Store Hours Are: Sunday thru Thursday, 11am-5pm A mask continues to be required.

2022 HOLIDAY HOURS
Tuesday, October 4 - OPEN 10am-3pm - KOL NIDRE
Wednesday, October 5 - CLOSED FOR YOM KIPPUR
Friday, October 7 - CLOSED ON FRIDAYS
Sunday, October 9 - OPEN 10am-3pm - EREV SUKKOT
Monday-Tuesday, October 10-11 - CLOSED FOR FIRST 2 DAYS OF SUKKOT
Monday-Tuesday, October 17-18 - CLOSED FOR LAST 2 DAYS OF SUKKOT
Thursday, November 24 - CLOSED FOR THANKSGIVING